Nov 17, 2014
Fry's Hut in the Howqua Hills was built by local master bushman Fred Fry whose life formed the basis of Nevil Shute's novel "The Far Country" and the movie was later filmed in the area. Fry built many huts in the region including Upper Jamieson Hut, Ritchies Hut, Gardiners and Noonans huts.
I was lucky enough to be a guest of the Wanderin 4 Wheelers Club on a trip to the area, this was one of the stops.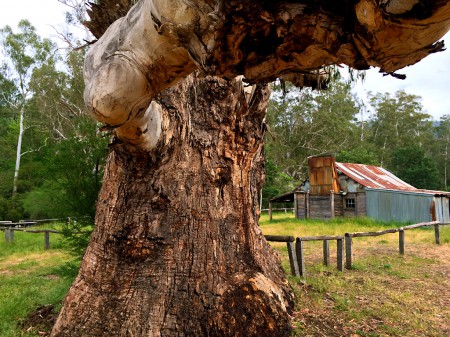 Above, another view with a close-up of the majestic tree which has most likely been standing guard since way before Fred Fry's time.
Below, safely sandwiched in between the trip leader and the back-door, or tail-end-charlie.
The Howqua Hills is a beautiful part of Victoria and well worth a visit, either a day trip or better still, a two to three day outing.